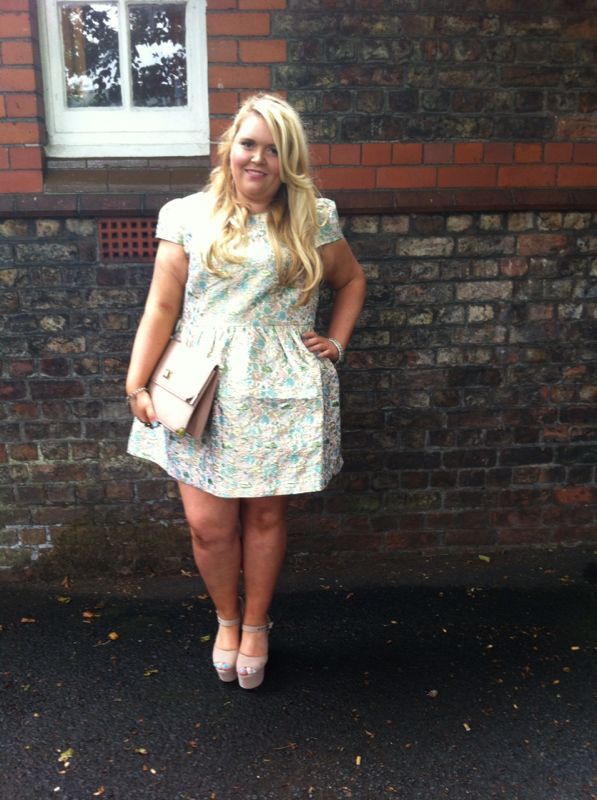 Dress - Miss Real Curve @ New Look
Shoes - Independant Retailer
Obviously having known for a while that my sister was getting married I really agonized over what to wear. I didn't want to spend too much on a dress that I possibly wouldn't wear again because I don't really go to that many occasions! I eventually decided that I'd wear a dress I already own and still completely love but after staring long and hard at it (believe me, I really did) I decided that it was too cream and that it didn't seem appropriate. I go by the rule that you don't wear white, cream or anything a pale beige to a wedding. Am I right?
Anyway cue a bit of a panic. I didn't have a dress and I didn't have much time to find anything. I'm usually organised with this stuff so I got on the search. I was flicking through the pages of New Look's sale when I spotted this dress for a bargain price of £12. I ordered it but thought it would be too good to be true for that price. When it arrived and I opened up the parcel I was really pleasantly surprised.
The dress was a beautiful colour, the perfect shape and a great length. I tried it on and it was love at first sight. I've never even heard of Miss Real Curve before so I really wasn't sure what to expect but I'm really so pleased with it. I added nude accessories and some silver bracelets and that was all it needed. I felt lovely in it and I got some nice compliments on it too which is always nice :)
It's definately worth having a root through the sale online sometimes because there are some fabulous bargains to be found!
I look mega awkward on this photo (story of my life) but I had to add it in because I loved how my hair turned out. Even if it did only stay like that for a few hours....